If you need or want to be competent in firearms, where would you go? Range Instructor School? They only teach you to teach others to shoot, and only deal with a few models of firearms. The military? First allow me to salute you for your patriotism and service, but even then, the military only teaches you about the weapons that they issue. Gunsmith School? Do you really have months to devote, and the need to learn to make gun parts? Firearm and Tool Mark Examiner school? Unfortunately, you have to be an employee of a crime lab in order to attend.
There have always been courses that that make you an Armorer or range instructors, but even those schools can't teach you to avoid the many pitfalls that can be encountered in the field of firearms. In fact, for those of us who deal with firearms and/or ammunition in our jobs, there has never been a source to teach us the facts, technology and regulations that we need, in order to avoid problems.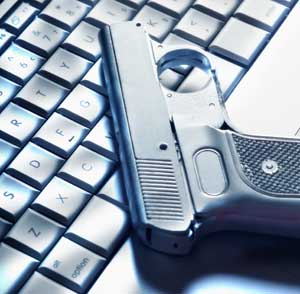 What are the costs of not becoming a Firearm/Ammunition Specialist? Let me first ask you what role firearms play in your life? No matter whether you deal with them as evidence, in sales, or as collector's items, there are countless pitfalls that regularly occur as a result of what you don't know! For more on the hazards associated with your profession, click on the corresponding button on our main page to learn more.
For decades we've encountered countless people in law enforcement, in the legal profession, dealers and collectors, who have suffered either grievous injury, property damage, lost court cases, professional embarrassment, lost business ventures and/or have lost valuable personal property, licenses, or have been jailed, because of what they didn't know about firearms.
We at IFSA, intend to make available an affordable course of study never offered before by anyone, which establishes a standard of safety, accurate identification and competence for those who deal with firearms professionally. We do so because of our respect for the positive roles that firearms have played in shaping history, the evidence of genius found in the design of those which have reached classic status, and our support of law enforcement and the rights of law-abiding citizens to bear arms, and to self-defense.
No matter what role firearms play in your life, you as a law-abiding professional can become a safe, accurate and competently trained Certified Firearm Specialist (CFS) through IFSA. Learn at your pace, in the comfort and privacy of your home or office through our web-based training, or attend one of our seminars in person.
Individual modules of training on specific aspects of firearms or ammunition are available also for those not interested in becoming certified.
CFS graduates have not only gained confidence and become firearm competent, they have found themselves on a fast-track toward promotions in their career.
Thank you for your interest, and we wish you the best of luck in your profession.