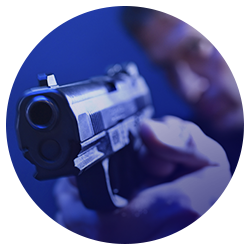 After a career with the gun-regulating agency of the most gun prolific country in the world, we grew tired of seeing how few people have a clear knowledge or grasp of firearm ID and technology. This knowledge is so necessary for people whose work involves the use and/or handling of firearms and ammunition.
The sad part is that without it, every day there are countless accidents, injuries, deaths, civil suits, loss of jobs, and loss of court cases. Having a complete working knowledge of firearms and ammunition isn't difficult, but where do you go to get it? None of this information is secret, but only the Bureau of Alcohol, Tobacco, Firearms and Explosives has it all, and they don't offer such a course.
Since 1996, we former ATF Academy Staff members and others, have been teaching law enforcement personnel the ability to handle crime-guns and ammo safely, and to make an accurate ID and classification of them. We give you the ability to competently testify in court beyond the normal scope of cross examination.
We took the confusion out of the field of firearms and ammunition, and made them easy to learn.
We formed IFSA/GunLearn.com to offer a simplified step-by-step program that takes you from whatever your present knowledge-level is, to become a safe, accurate and competent Specialist. We don't like to use the word "expert", because when you do, you're setting yourself up for a fall. Rather, a Specialist is someone who devotes themself to a subject or a pursuit.
If you want to quickly learn how to be better at your job, and avoid problems and trouble, you can learn from your home or office using our E-Learning program! We make it possible for you to no longer make costly mistakes due to having been poorly informed.
Let us unlock the confusion, and protect you from the dangers of injury, job stress, civil suit and lost court cases.
We provide citations from Federal law and ATF Rulings for every point taught, to ensure accuracy.
One wrong move can lead to property damage, injury or death. One wrong ID can lead to a lost prosecution.
Firearms and ammunition are an aspect of the majority of crimes. Become one of the Leaders in this technical field!
Every year, roughly 600,000 guns are recovered by law enforcement! If you work violent crime cases, you know that there's no room for error.
IFSA staff members are from the ranks of ATF, CPD, NYPD, the SAPS, and includes two Forensic Pathology Medical Doctors. We have a combined 350 years of experience with firearms and ammunition!
Learn Firearm Competence, and Be Confident.
Topics available:
Gun Control Act Overview
Safety and Clearing (rules of safe handling, clearing procedures, safety precautions, internal safety devices, test-firing cautions, jammed firearms)
Firearm Classification (5 categories of GCA firearms, definitions of "firearm" and "antique" [non-gun], forearm-braces, vertical fore-grips,

80% Receivers/Dummy Guns/Home Made Guns) 

Firearm Markings (manufacturer, importer, proof, obliterated serials, double serials, double importers, trademarks, ATF variances, hidden serials, Nazi codes, catalog guns, foreign military gun-ID, ATF Tracing)
Nomenclature (ID of parts necessary to safety and/or markings location)
Ammunition (components, ID, technology, NIBIN, interstate nexus)
Cycle of Operation (The cycle of steps occurring from the discharge of a cartridge, to the point of firing the next one)
Mechanical Types of Operation

(breech and muzzle-loaders, self and manually-loaded firearms, action types, open and closed-bolt, semi and full-auto)

Curios and Relics

(collector status granted by ATF, C&Rs vs. antiques)
National Firearms Act Overview
Machineguns (eleven most common clandestine conversions, field testing, bump-firing, Gatling guns,

DEWATS, re-welds, ATF-authorized methods of destruction)

Silencers

(recognition, soda-bottle and oil-filter adapters, solvent traps, fakes)

NFA Rifles/Shotguns

(short barreled, weapons made from rifle/shotgun, shoulder-stocked handguns, sub-caliber inserts)

Any Other Weapon [AOW] (disguised firearms, smooth-bore handguns, Marble Game-getters)
Destructive Devices

(IEDs/pipe bombs, grenades, mines, Molotov cocktails, Street-sweeper/USAS-12, etc.., bores over .50 caliber, exceptions)
---

Become accredited as a CFS!
Our Certified Firearm Specialist program can be taken at your pace in your spare time, or at work. It's divided into short building blocks that make learning simple.
No need to become a Specialist? You can also choose from our E-learning menu of topics, and brush-up on the ones you do need.
This training is intended for every law-abiding person, whether in law enforcement, the firearm industry, military and security personnel, Attorneys, uniformed Officers and Detectives, as well as Crime Scene Investigators, Prosecuting Attorneys, and Medical Examiners/Coroners. Military Investigators, Private Security, Crime Analysts, and Evidence Custodians would also benefit from this training.
Please note that the first 14 modules comprise the Certified Firearm Specialist (CFS) course. We realize that some of our clients only wish to take certain modules in order to improve their skills in those topics. However, if you plan to complete the CFS course, we recommend that you take them in the order in which they are listed. This order is not required, and they may be taken in any order. Taking them in the listed order will make your flow of learning much easier.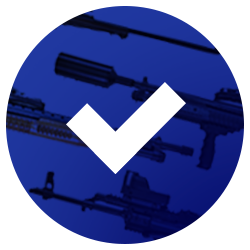 ---
Live seminars also available. See about free training by hosting a seminar. Click on "Hosting a Seminar" to learn more.
---
Nothing in this course should be construed as legal advice. We are not Attorneys. This information consists of citations of ATF Rulings, the U.S. Code, and Code of Federal Regulations, as well as the observations and experience of veteran law enforcement professionals with expertise in this subject matter. It is an attempt to clarify the methodology used by the Federal Government, in the manner in which the Government classifies and identifies firearms and ammunition. It is admitted that some issues covered within are not clear, due to the contradictions which are found in the above citations. This entire course and it's component learning modules are intended to be used as an outline for learning the field of firearms and ammunition by those who deal in, or handle firearms and ammunition professionally. It is intended that this course be learned in it's entirety. The ignorance of any one or more parts of it may leave the reader ill-equipped to competently navigate any other part(s) of it. Always consult with an Attorney before modifying a firearm.