James E. Yurgealitis, ATF Special Agent-Retired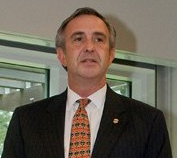 Mr. Yurgealitsis holds a Bachelor's degree in Political Science and Psychology, from St. John Fisher College.
He retired as a Senior Special Agent from ATF after 23 years, having served for over 10 years as the Program Manager for Forensic Services at the ATF National Laboratory Center, where he directed the administration of ATF's forensic training programs, including the National Firearms Examiner Academy's for State and local Forensic Firearm Examiner Trainees, and two additional forensic training programs. Earlier, James was the Violent Crime Coordinator for ATF's Baltimore Field Division, managing a joint law enforcement initiative between ATF, the United States Attorney's office, the Baltimore City Police Department, Baltimore City States Attorney's Office and the Maryland State Police. There, he reviewed over 400 State and local firearms arrests annually for referral to the USAO and Federal prosecution. He testified before Federal Grand Juries over 75 times annually, and was recognized as an expert witness in the identification, operability and origin of firearms and ammunition in three Federal Judicial Districts.
Mr. Yurgealitis began his ATF career in various capacities as a Special Agent, and acted as Group Supervisor and Assistant Special Agent in Charge on numerous occasions. He served on the Washington – Baltimore High Intensity Drug Trafficking Area (HIDTA) task force from 1995 – 1999, investigating armed narcotics trafficking organizations, and worked in an undercover capacity. He investigated fatal bombings and arsons, firearms trafficking, alcohol and tobacco trafficking, homicide, fraud and gun store burglaries. He was also while detailed for 8 months as the Public Information Officer authored press releases, provided interviews to local and national print and television media outlets and made presentations to local and national public and special interest groups and associations.
James began his law enforcement career as a Special Agent with the United States Department of State, Diplomatic Security Service, where he investigated Passport and Visa fraud, illegal trafficking of restricted firearms and war materials to prohibited countries. He was detailed to the Dignitary Protection Division as Agent in Charge of protective details for visiting and resident foreign dignitaries, and temporarily assigned to Physical and Personal Protective Security in various U.S. Embassies overseas.
James has toured over 25 firearms and ammunition manufacturing facilities in Europe and the United States, and maintains a Top Secret security clearance, valid through February 2015, with numerous prior SCI Clearances. Further, he has instructed at the Federal Law Enforcement Training Center, and at the International Law Enforcement Academy in Budapest, Hungary, and numerous National, State, and local agencies in the United States, Canada and Central America.