Vendarryl Jenkins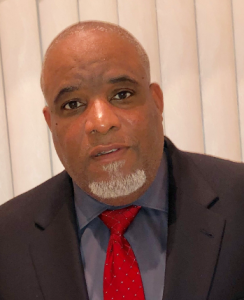 Mr. Vendarryl Jenkins brings more than 27 years of experience investigating complex Firearm Trafficking cases, and training and consulting with clients.  As a retired Special Agent with ATF, he is sharing his vast knowledge of all phases of complex investigations.  His experience includes supervising a diverse group of law enforcement professionals, collaborating with federal, state, and local law enforcement personnel, conducting over 500 polygraphs, and instructing both internationally and at the ATF National Academy.
Mr.Jenkins began his career with the Bureau of Alcohol, Tobacco & firearms (ATF) in 1991. After serving in a number of positions in three different regions, and several positions in ATF Headquarters, he was promoted to Supervisory Special Agent in 2014. He then served as the Resident Agent in Charge of the Merrillville, Indiana Field Office.  He ran the Northwest Indiana High Intensity Drug Trafficking Area (HIDTA) group, an office that was developed to disrupt/dismantle drug trafficking organizations in the area.  He changed the culture to intelligence-led policing by collaborating with local partners and developing initiatives which focused resources in areas that measurably lowered crime rates.  Having gained community trust,  Mr. Jenkins group won the first ever HIDTA Award in Indiana, and a Top Cop Award.
Mr. Jenkins served as the facilitator for international training with the Bureau of International Narcotics and Law Enforcement Affairs (INL) International Law Enforcement Academies (ILEA) in Europe, Asia, Africa, and South America.  He coordinated and developed training for the Caribbean Basin Security initiative throughout the Caribbean.  He brings with him front-line senior level expertise in designing, testing and improving best practices in law enforcement, and specifically community policing and training.
Mr. Jenkins was recognized with the James E. Little Concern for People Award for his involvement in community-based policing.  He has also published papers from his research on the need for Effective Diversity Hiring and Diversity Training of Police Officers.
Vendarryl is a certified instructor through the Law Enforcement Instructor Training Program (LEITP-815). He is an Interstate Nexus Expert, member of American Polygraph association, Certified Crisis Negotiator, He earned his Bachelor of Arts Degree in Business Administration from Chicago State University and holds a Master of Criminal Justice Degree from the University of Wisconsin, Platteville.